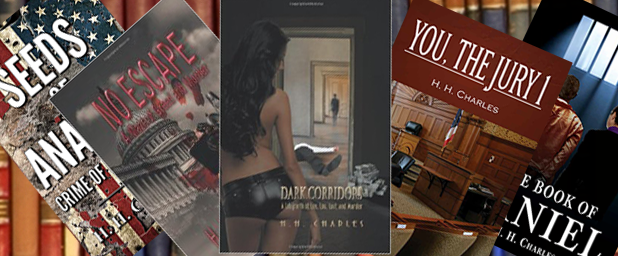 Author
NOTE: Lawyers are known for writing novels and other books, for example, John Grisham, Steve Barry, Scott Turow and others. Using the pen name, H. H. Charles, as a novelist, he draws on his experience as a practicing lawyer in Washington, D.C. and Virginia. He has written six novels and two screen plays. His story lines focus on current legal, social and political issues and controversies. He is now working on his first non-fiction book, a critique of the 44th President's legacy. A brief synopsis of his novels follows.
No Escape – A Maze of Greed and Murder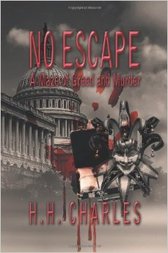 In his first novel, a mere proposal to legalize certain drugs results in dire consequences for all involved.
U.S. Senator Tom Graves's proposal to legalize drugs creates a backlash from the religious right, whose opposition is unwittingly organized and funded by Carlos Renner, one of Washington's many power brokers unknown that he is a drug lord.
The opposition takes a deadly turn when a zealot detonates an explosive during the first hearing on the proposal and Graves is hospitalized. During his recovery, he meets Dr. Victoria Bennett, a woman with a complicated past. Unaware of her background, they become involved. When tragedy later strikes, Graves resorts to his combat experience in Iraq to track down her murderer, who has fled to Rio.
Captured by Renner, Graves is helped to escape by his daughter, Angelica, only to be tracked down and surrounded in an abandoned DEA safe house by Renner's trained assassins. Escape seems impossible. An international thriller that shows there can be No Escape.
Dark Corridors – A Labyrinth of Lies, Loss, Lust and Murder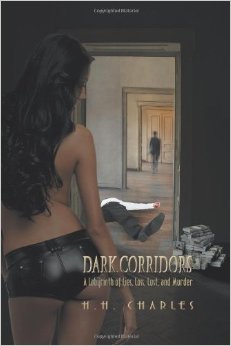 This, his second novel, is based in part on true events. How big business gets its way in Washington through money, influence, cover ups, and if necessary, murder.
Chase Michaels makes his living by investing. As minority shareholder in the company that will be the surviving company in a merger that will create the biggest technology company in a predicted trillion-dollar market in advanced technologies, he discovers that the officers of the merging companies are manipulating the process to cut out minority shareholders, keeping the profits for themselves and their fellow travelers.
Michaels undertakes a relentless campaign to protect his and his fellow minority shareholders' interest. His efforts are met with lies and cost him his marriage. A corporate counsel's lust for a beautiful executive secretary is used to goad him into arranging for the removal of whomever threatens the merger. Everyone involved find themselves trapped in a labyrinth where they must navigate official Washington's dark corridors, filled with lies, loss, lust, and murder.
Dark Corridors represents "business as usual" in Washington.
Seeds of Anarchy – Crime of Indifference [To be re-released soon]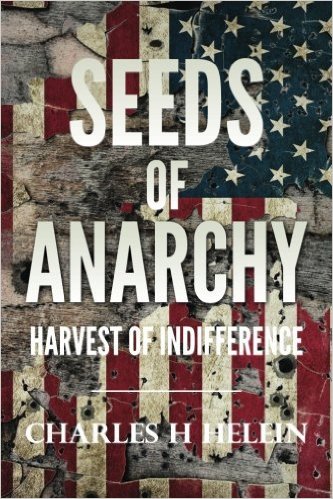 T
his third navel is about gun violence. In doing researching for the book, Federalist Papers and subsequent writings of the founding fathers established a convincing basis that the right to bear arms under the Second Amendment was indeed limited to those in a well-regulated militia.
A husband and father, Chris Knight, becomes a "surviving victim." He has, like so many others, lost his love ones, his wife and five-year old son, in a random massacre by gun violence. For months, he has agonized and grieved. Unable any longer to witness Knight's depression and despair, his law partner finally intervenes and forces him to take a leave of absence. The change of scenery and physical activity help. But a dream, at first bringing joy, then the pain of renewed loss, breaks the mental prison of helplessness and uncertainty. Chris returns driven to seek answers why no state legislatures or Congress have been able or willing to act effectively to control the presence of guns in America.
Despite his new motivations, Chris continues to struggle. Once again, his law partner steps in and convinces him he should seek counseling. At first Knight refuses. Then, reluctantly, he agrees. His partner recommends Doctor Kelly Young, a friend with impressive credentials obtained by dealing with several surviving victims of gun violence. The sessions with Doctor Young prove effective, more rapidly than she or Knight anticipated. As a result, Chris sets about to develop his own plans to challenge the gun-government complex that has placed gun ownership above all other rights of society. When elements in the gun lobby learn of his plans, things quickly get deadly.
Beyond the battles of Chris's personal war, a larger storm is brewing fed by the unlimited "right to bear arms" manifesto. While the carnage continues, the "right to bear arms" is sowing the seeds of anarchy. Unbeknownst to Chris, his efforts to limit the "right to bear arms" to that which was intended by the Founding Fathers may prove necessary to preserve a government of laws and not men. Will his plan succeed? Will his plan survive the gun lords and their toadies? Will he survive?
The Book of Daniel [To be released soon]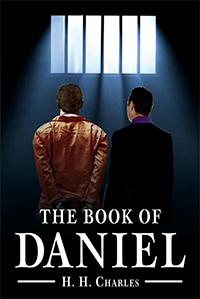 Three months after a State Supreme Court holds that the death penalty is unconstitutional as cruel and unusual punishment, its Chief Justice who cast the deciding vote in the 5-4 decision is found shot to death in his bedroom. There's no signs of a struggle, but the police find a crumpled piece of paper on the Justice's body with a series of letters that are unintelligible.

Police detective Edwards, following the admonition that if all other possibilities are eliminated, what remains must be the truth, focuses his investigation on the unlikeliest of suspects. The survivors of victims murdered by the convicts whose death penalties are commuted by the Court's decision.
Suspicion soon falls on Jed Summers, whose wife and daughter were violated and murdered in ritualistic cruelty and depravity, their nude and bloody bodies when discovered encircled by demonic symbols. In an interview by the local press, Summers admits that Court's decision brought back the nightmarish horror of his losses and that he felt compelled to do something. What he didn't know.
Following his theory, Detective Edwards, a twenty-year veteran in homicides cases makes Summers his prime suspect. The motive – revenge against the Justice. Then two more deaths follow. The attorney who successfully argued the appeal leading to the Court's decision and a member of Concerned Humanitarians Against State Executions, CHASE, an organization that opposes the death penalty. Edwards believes the deaths are related to the murder of the Chief Justice and supports his theory of revenge. He is convinced that Summers is the murderer.
With pressure building, Summers seeks the help of Dr. Kelly Young and hints he may need the legal services of her now husband, Chris Knight. After a session with Kelly, she concludes Summers does not have the personality, even in his terrible grief, to murder in cold blood. This leads Knight to seek another motive for the killings. Knight undertakes Summers' defense and begins his investigation unsure where it will lead him. The mystery unravels slowly, but what is eventually discovered, leads to deadly endings for those involved.
You, The Jury 1 [To be released soon]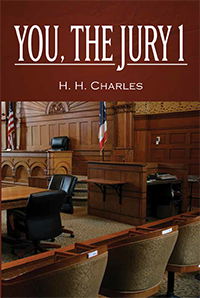 On a Christmas morning, the body of a sixteen-year old girl is found in a field near the local railroad overpass. Although the temperature the night before was well below freezing, she was discovered without any winter clothes. An autopsy determined she died of hyperthermia and her blood alcohol level showed she was legally incapacitated.
Investigation into the causes of her death lead to the home of a young bachelor, Bryan Hazzard, who had hosted a Christmas Eve party that night which, although underage, the dead girl had attended. Although the defendant claimed he had asked some friends to check IDs, in fact, none were. It was further established that the defendant met and talked with the girl during the party and had been seen offering her some liquor.
As the party wore on, the girl was seen drinking heavily after she had been given the liquor by the defendant. The defendant was unaware of this. He had no further contact with the girl and left the party while it was still going on. The girl eventually wandered off into the freezing cold intending to see her boyfriend who was working several blocks away. Inebriated, the girl soon became disoriented. Suffering from the effects, she felt hot, shed her coat, became drowsy, and laid down in the snow. The next morning, she was found frozen to death.
In deciding whether there was any culpable conduct for the death of the girl, the prosecution was confronted with these statistics. Alcohol is the most commonly used and abused drug among youth in the United States. Excessive drinking is responsible for more than 4,300 deaths among underage youth each year. In one year, there were approximately 189,000 emergency rooms visits by persons under age 21 for injuries and other conditions linked to alcohol. Among high school students, in one 30-day period, it was recorded that 33% drank some amount of alcohol, 18% binge drank, 8% drove after drinking alcohol, and 20% rode with a driver who had been drinking alcohol.
Bryan Hazzard was indicted for contributing to the delinquency of a minor and second degree manslaughter. He pleads not guilty. The evidence and testimony at trial are presented to You, the Jury, to render a verdict.
You, The Jury II [To be released later this year]
Carl Truitt is on trial. Indicted for the murder of his business partner, Candice "Candy" Cavanaugh. Truitt and Cavanaugh operated a small, but increasingly popular restaurant. Having survived for two years during which most new restaurants fail, the third year held solid promise for long term success. But unbeknownst to Truitt, his partner had a gambling addiction. To feed her addiction, she constantly needed funds. Having exhausted all other options, she contacts a small time local hoodlum, Ray Gotti. When she did win, she had to pay back his loans, plus interest at twenty-five percent.
But, you can't beat the "House," and Candy soon found herself unable to repay Gotti. After missing several payments, Gotti refused to advance any more money and started applying the pressure. Having no other sources of funds, and now owing Gotti over $250,000, Candy embezzles from her partnership with Truitt. In charge of all financial matters, Cavanaugh covered up her embezzlement for a time; but Truitt finally found out.
Candy Cavanaugh's nude body is discovered in the restaurant's freezer. Because her death had the ear marks of a mob hit, Gotti is arrested and charged with her murder. Not long afterward, the charges against him are dropped and Truitt is charged with her murder.
The testimony and evidence at trial present facts that Truitt murdered Cavanaugh out of jealousy and rage, making it look like a mob hit to implicate Gotti. But there are other facts at trial that indicate that Gotti used his "connections" to frame Truitt. Which set of facts establish who killed Cavanaugh? You, the Jury, must decide.
Firm Policies
The Practice of Law – A Profession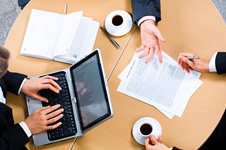 The practice of law is not a business. To practice the law as a profession means that the central, overriding focus and concern is on the interests and rights of clients fully consistent with the substance and the procedures of the law and in compliance with Rules of Professional Conduct such as those of the Virginia State Bar. As a profession, the focus is on service rather than generating legal fees, of providing clients with the highest degree of fiduciary responsibility. It requires strict confidentiality of client information.
Client First Policy

Professional representation requires promptness and diligence in dealing with clients; being readily available; providing updates; timely responding to inquiries and concerns; thinking thoroughly about alternatives to accomplish their best interests, advising when a desired course of action is not the best means to accomplish the client's goals or might be self-defeating irrespective of the effect on remuneration. Professional representation is not judgmental, explains fully the relevance of the attorney-client privilege in order to elicit complete and candid disclosure of all facts irrespective of the client's view that some may seem or be contrary to one's interest.